Hello! Welcome to the world of Banakula!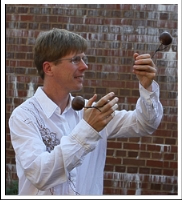 My name is Hal Walker and Iím here to introduce you to an amazing little musical instrument. Over the last 10 years of making and playing this pocket-sized rhythm maker, Iíve experienced a cool process of discovery. Here in Ohio, far away from the Banakulaís African home, Iíve had to make it up as I go. Iíve had to figure it out on my own. As I keep playing, I keep discovering new moves and reaching new levels. As I teach others to play, I keep realizing the awesome power of rhythm and the pure pleasure of the banakula. The world of banakula integrates music, art, sport and play. The culture of Banakula is based upon Peace. I canít believe that 10 years ago, I didnít even know that this instrument existed. Today, I want to share with you what Iíve discovered. So, get ready! Here we go! Itís time to make art, play music and Banakula!
Make Art. †Play Music. †Banakula!